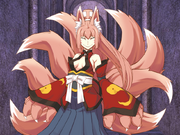 Yao is an eight tailed Kitsune serving under Tamamo and a returning character in Monster Girl Quest Paradox . She only appears in the Upcoming Events section so far.
Biography
Yao appears before Tamamo to inform her of the whereabouts of the tanuki leader, and Tamamo is already aware it means the Second War between Kitsunes and Tanukis is close. Tamamo tells her to look for Luka's help as they may not be able to handle the Black Tanuki being assisted by Black Alice 's forces.
Otherwise she's mentioned by name by Kamuro in the Grandeur theatre's events, and dialogs from Nanabi show that both are friendly rivals.
Trivia
Gallery
Community content is available under
CC-BY-SA
unless otherwise noted.