Welcome
Hi, welcome to MonsterGirlQuest Wiki! Thanks for your edit to the Monster Girl Quest: Paradox page.
Please leave a message on my talk page if I can help with anything! Shadowblade777 (talk) 09:50, December 24, 2014 (UTC)
Main Page editing
You can edit the main page from Template:Front_page.
DarcosRoyal (talk)
Adoption Request
Hi there!
I noticed your adoption request for this wiki. I see that you have an extensive history here, so I'm prepared to grant you sysop permissions. However, I'm wondering: have you ever contacted this wiki's bureaucrat, Rosemary the Usurper, about being granted enhanced permissions? There's a chance they might respond to a message on their talk page, despite them appearing inactive.
- Sitb 00:29, 6 March 2021 (UTC)
Hi, and thank you for your answer.
I hadn't contacted Rosemary yet simply because several other people left messages on their wall in the recent months, and Rosemary themselves had neither taken action nor answered.
I will leave them a message to ask them as procedure dictates (and as I should initially have done), but I'm afraid I will have to wait for an exceedingly long time to get an answer.
Best regards.
Kaerdron (talk) 00:54, 6 March 2021 (UTC)
Because it's the upkeep/maintenance and health of the wiki that we're talking about here, I think it's reasonable to say that we shouldn't wait too long for an inactive admin to respond. Like you mentioned, Rosemary the Usurper has not been responding to any other messages, nor have they been active here, or anywhere else on Fandom, for over three months. By leaving them a message, we're giving them time to respond, and if it comes to it, we can show them curtesy by notifying them about your user rights change, if/when you are granted enhanced permissions. I think a few days is a reasonable amount of time to wait for a response in this case. If the admin has not responded within a few days, feel free to message me, and I'll grant those permissions. 🙂
- Sitb 13:09, 6 March 2021 (UTC)
Hi
I have now message Rosemary the Usurper a week ago, and, unfortunately, I didn't have an answer since then. As I got asked a few more times on Discord to make some specific changes (templates, page deletion...), is it possible to get Sysop rights without their intervention?
Best regards Kaerdron (talk) 17:52, 13 March 2021 (UTC)
Hi there,
Sorry for not seeing this sooner (I saw the notification of your message you left today on my talk page). Two full weeks was certainly a reasonable time to wait for a response. I will grant you sysop permissions shortly and I'll also let Rosemary the Usurper know, for whenever they return, that you are now an administrator.
- Sitb 02:21, 21 March 2021 (UTC)
Thanks you for your answer and the rights. I'll make good use of it. Kaerdron (talk) 09:13, 21 March 2021 (UTC)
Editing.
Hi there, I edited a bit Illiasville, the medal king list was updated. I tried editing a bit with the gallery but I messed up lol. (Like I tried adding a picture of the Medal King list below the table but, the image got misplaced to the right and well, I stopped). Also, there is a hidden button in the third room (Luka's Inn) that unlocks the scene recollection, again I couldn't add it because of the gallery issue. It's this one.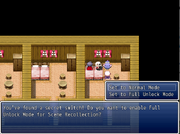 Strange, I didn't have any problem on my end. Did you try to edit the gallery directly or to drag and drop the file in the mix? The latter is a bit buggy currently.