Ilias After
Synopsys:
A week passed after Ilias was defeated. Somehow, Ilias had ended up in Luka's mind after healing him of the holy erosion. Unable to do anything at all in that state but talk, she decides to let Luka know of a few things that nobody else knew about before, and that nobody was supposed to know of in the first place.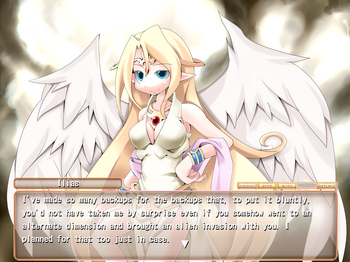 Features:
Text
Text
Cheeky1.ogg
More text
Did I say text already?
No porn
Human beans
Alien invasion from an alternate dimension
Not really
​
Requirements:
Monster Girl Quest parts 1 to 3 merged in a single folder
It is NOT required to have the ONScripter port (AKA what NG+ uses), it works on both
Being able to not fall asleep at a text and plot centered sidestory instead of a porn one
Download:
Community content is available under
CC-BY-SA
unless otherwise noted.