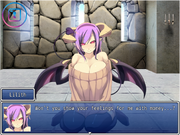 Working in environmental processes. Interested in playing every kind of games.
I originally discovered MGQ because my lustful past self wanted something new and exotic. I stayed because the story and the characters are way better than what I expected. I recently took the role of admin to be able to clean a few secure pages on the wikia.
Else, I don't have much to say about myself, save for the fact that I'm also currently writing a few of fanfictions to pass the time. I also work on keeping the wikia clean and updated.
https://www.fanfiction.net/s/13447528/1/MGQ-Paradox-Inside-the-Pocket-Castle
https://www.fanfiction.net/s/13523829/1/Monster-girl-quest-Paradox-New-Game-Plus
https://www.fanfiction.net/s/13767233/1/Succubus-Fantasy-Ancestors-Awakening
Constructive criticism is always appreciated.
Don't hesitate to ask for help.
Favorite Monster Girls and current Team