Snow Cave is a location in Monster Girl Quest: Paradox
Overview
As the only way to enter theSnow Continent from the outside, the Snow Cave is well guarded. Patrols of Angel Soldiers roam about, and the local wild life, the Polar Bear Girl, are constantly on the prowl. While inside the caves, beware of the Ice Witches, as they are seeking new targets to practice on. At the peek of the Snow Cave, the Polar Bear Village allows a brief respite before the trek downwards. Then, outside the cave, Snow Heaven awaits weary travelers.
Treasures
Outside
Frigid Blue Ice Stone*2
Seed of Spirit
Bright White Holy Stone*2
Secret Holy Tome
8800 Gold
Reaper Cards
Staff Medal
Force Sword
Hermes Bracelet
17800 Gold
Small Medal
1F
Divine Miracle Drug
Seed of Spirit
Angel's Leotard
2F
3F
4F
Seed of Magic
Bright White Holy Stone
5F
6F
Gallery
Map Of The Area
Small Medal Locations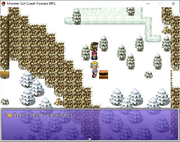 Community content is available under
CC-BY-SA
unless otherwise noted.