Shidara Settlement is a location introduced in the Collab Scenario.
Overview
A small town or settlement that is visited by Lars and Rovissa as they look for a way to travel through the world. They also meet Novissa as the lone swordsman is looking for Tarsa, and Daimyokai who's discussing with the Village Chief.
The latter asks for their help to check on Izumo Village, as rumors of attacks by powerful monsters worry him.
Map of the Area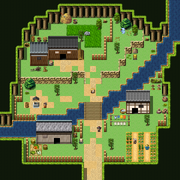 Hidden Items
Ultimate Herb
Panacea
Eye Drops
Elven Miracle Drug
Elixir
Yggdrasil Leaf