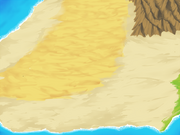 Safina (サフィーナ) is a location in Monster Girl Quest and the final region in Chapter 1 which Luka visits. It is the westernmost region of Sentora, consisting primarily of desert.
Description
While the place is whole region is mostly a desert climate, its capital, Sabasa, has nothing to envy to its other regional counterparts, and is well known for its markets. The second most important settlement in the region is Witch Hunt Village, and, unfortunately, as its namesake implies, the local lord is on a Witch Hunt to eliminate opponents. North of the region, one can find the Safar Ruins where the Spirit of Earth, Gnome, enjoys the tranquility of the desert.
The region is ruled by its fair King and his beloved daughter the princess Sara. However, elves were supposedly hunted away from this region a long time ago, something the king was unaware of. The tomb of the first king, the Pyramid, has become holy ground for local monsters and is kept by the powerful Sphinx, who challenges people coming for the Dragon Seal trial with riddles.
Gallery