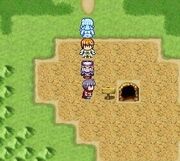 Companions are
enemies
and other
NPCs
that have decided to join
Luka
on his journey.
Recruitment
Companions are primarily added by defeating enemies in combat. After every victory, there is a chance of them asking to join Luka which can be accepted or declined. The formula seems to be:
(Affinity)*(Recruitment Chance)*(Recruitment Rate) = (Join Chance)
Let's look at an example.
Dahlia has low recruitment chance, 1/16, so let's do everything to increase our chances. We raise her Affinity to 100 and we get 300% Recruitment Rate, the max for Part 1, and plug these numbers into the formula.
(100)*(1/16)*(300/100) and let's simplify that to (100/16)*3.
100 divided by 16 to give us 6.25 which is then multiplied by 3 to give us 18.75. In other words, she has a little less than a 20% chance to ask to join at the end of every victory against her.
Some unique characters have special circumstances to be recruited, regardless of Affinity, Recruitment Chance, and Recruitment Rate. It can as simple as challenging to a battle, or it could be through story progression such as Ilias or Alice, events such as Lime, quests such as Amira, and other conditions. Some companions force their way into the party like Sonya.
Benefits
Luka can travel with up to seven Companions with him at any given time. In Paradox's second chapter, your party size increases by two after resolving the navy quest and by another two after defeating all the queens, reaching a maximum of eleven Companions. All other Companions are stored in the PC, the Monster Lord's Pocket Castle. Four members of the party can be active in combat at any given time with the rest in reserve and can be switched at any time when not in battle and at the start of every turn in battle, unless the party is disabled by Status Ailments. While anyone can learn any Job, Companions may have a variety of races among them with different benefits for combat. Additionally, each Companion has a Unique Trait that gives them special passive bonuses.
Out of combat, Companions have both practical and personal benefits. At high Affection values, Companions will give gifts to Luka and will take "Requests" from Luka.
List
There are currently over 160 recruitable Companions.
"Monster girl" denotes the monster girl's name in combat. If it's left blank, the character cannot be fought. "Level", "Jobs" and "Races" listed are upon recruitment. "Races" marked with asterisk are obtained through events as you progress the story. "Jobs" and "Races" in bold are the ones active when the companion joins you. BF stands for Battle Fucker – after defeating this person in a BF challenge you can speak to them again to recruit them.
​(1) Tiny Bandits can only be recruited after being defeated during Main Quest: Looking for the Informant.
Name
Monster girl
Level
Jobs
Races
Recruitment method
Luka
1
Apprentice Hero 1

Human 1, Lowly Angel 1*

Protagonist
Alice
2
Noble 2
Yoma 2, Elf 1*, Beast 1, Lamia 1, Scylla 1, Land Dweller 1, Sea Dweller 1
Choice after baptism
Ilias
2
Priest 2, Hunter 2
Lowly Angel 2
Choice after baptism
Sylph
Sylph
18
Magician 10, Thief 10, Fortune Teller 10, Gadabout 10, Black Mage 1, Master Thief 1
Fairy 10, Wind Spirit 4
Main quest, Defeat her in the Forest of Spirits
Gnome
Gnome
23

Warrior 10, Martial Artist 10, Power Fighter 8, Overpowering Fist 6

Fairy 10, Earth Spirit 6

Main quest, Defeat her in the Safaru Ruins
Undine
Undine
31
???
???
Main Quest, defeat her in the spring
Salamander
Salamander
40
???
???
Main Quest, defeat her in Gold Volcano
Alma Elma
Alma Elma
60
???
???
Complete Second Remina Lab visit for

Promestein.

Promestein
12
Scholar 7, Nurse 4
Lowly Angel 3
Talk to her in the second Tartarus
Alicetroemeria
Black Alice
42
Warrior 10, Magician 10, Samurai 10, Black Mage 10, Time Mage 10, Summoner 10, Inferno Mage 3, Arctic Mage 3, Gigavolt Mage 3, Spacetime Mage 3
Yoma 10, Elf 1*, Beast 10, Lamia 10, Scylla 10, Land-Dweller 10, Sea-Dweller 10, Alraune 10, High Yoma 10, Boa Lamia 10, High Scylla 10, Noble Yoma 3
(Alice Route):

Unmissable, meet her in the 4th Parallel World

Lime
Slime Girl
1
Thief 2
Slime 2
Rescue her from the marsh in Iliasville
Bunni
Bunny Slime
2
Martial Artist 2
Slime 2, Beast 1*
Random Battle
Melk
Slug Girl
2
Warrior 2
Land Dweller 2
Random Battle
Rami
Imp
3
Magician 2
Imp 2
Random Battle
Rumi
3
Martial Artist 2
Imp 2
Talk to her with Rami in party
Remi
3
Priest 2
Imp 2
Talk to her with Rami in party
Ragora
Mandragora
3
Gadabout 3
Alraune 3
Random Battle
Pochi
Dog Girl
3
Thief 3
Beast 3
Random Battle
Mimi
Earthworm Girl
4
Hunter 3
Land Dweller 3
Random Battle
Gob

(1)

Goblin Girl
4
Warrior 4, Thief 3
Demi-Human 4
Talk to the old man in the house behind Iliasburg's Battlefucker, then catch her in the plaza
Teeny

​(1)

Tiny Lamia
8
Thief 3, Cook 5, Maid 6
Lamia 5
Talk to her after defeating Queen Harpy
Vanilla

​(1)

Vampire Girl
4
Thief 3, Merchant 3
Vampire 4
Talk to her in Iliasburg item shop, talk to the merchant in Iliasville item shop, save the merchant's partner from Talus Hill , talk to the merchant again, get beetle from Talus, give it to Vanilla
Papi

​(1)

Dragon Pup
6
Warrior 4, Martial Artist 5, Thief 3
Dragon 4
Talk to her after getting the iron ore
Ratty
Rat Girl
4
Thief 4
Beast 4
Random Battle
Amara
Wolf Girl
4
Martial Artist 4
Beast 4
Random Battle
Mini
Phoenix Girl
5
Gadabout 4
Harpy 4
Amira's Side Quest: Nameless Slums Trafficking
Hiru
Leech Girl
5
Warrior 4
Land Dweller 4
Random Battle
Barbun
Rabbit Girl
5
Hunter 4, Gadabout 4
Beast 4
Random Battle
Mary
Sheep Girl
5
Martial Artist 4, Gadabout 4
Beast 4
Random Battle
Sully
Sully
6
Thief 5, Guard 5
Sea Dweller 4, Lowly Apoptosis 1
Random Battle
Jaide
Jaide
6
Engineer 5
Doll 4, Lowly Apoptosis 1
Random Battle
Shesta
Shesta
6
Magician 5, Merchant 4, Cook 4
Insect 4, Lowly Apoptosis 1
Random Battle
Nuruko
???
7
Unemployed 1
Fairy 1*, Scylla 4, Lowly Apoptosis 1
Defeat her in the first Tartarus , leave and re-enter the house, talk to her
Hip
Orc Girl
7
Warrior 5, Guard 5
Beast 4
Random Battle
Honey
Bee Girl
7
Martial Artist 5, Cook 5
Insect 4
Random Battle
Chirp
Sparrow Girl
7

Thief 4, Gadabout 6, Informant 6

Harpy 4
Random Battle
Reina
Harpy
7
Thief 5, Gadabout 5
Harpy 7
Random Battle
Pina and Pii
Harpy Twins
7
Gadabout 5
Harpy 4
Random Battle
Elizabeth
High Slug
8
Noble 6
Land Dweller 5
Random Battle
Rosary
Slug Nun
8
Priest 6
Land Dweller 5
Random Battle
Melty
Sluggy Stars
9
Warrior 5, Martial Artist 6
Land Dweller 5
Talk to them after getting the slug medal and defeating them
Pumpkin
Jack O Lantern
9
Magician 6, Fortune Teller 6
Fairy 5
Random Battle
Cindy
Roper Girl
9
Hunter 5, Gadabout 6
Scylla 5, Land Dweller 5
Random Battle
Meru Meru
Meda
9
Guard 6, Gadabout 6
Insect 5
Random Battle
Chandra
Candle Girl
10
Magician 6, Fortune Teller 5
Ghost 5
Random Battle
Eater
Eater
11
Guard 7
Alraune 6, Lowly Apoptosis 1
Random Battle
Riot
Riot
11
Martial Artist 7
Beast 6, Dragon 6, Lowly Apoptosis 1
Random Battle
Luxuru
Luxuru
11
Engineer 7
Doll 6, Lowly Apoptosis 1
Random Battle
Lona
Dark Elf Fencer
12
Warrior 7, Hunter 5 
Elf 6
Random Battle
Marion
Dark Elf Mage
12
Magician 7, Hunter 5
Elf 6
Random Battle
Fell
Fairy
12
Magician 7, Gadabout 7
Fairy 6
Random Battle
Amy
Mini Crab Girl
12
Fortune Teller 6, Gadabout 7
Sea Dweller 6
Random Battle
Gigi
Catfish Girl
12
Martial Artist 7, Merchant 6
Mermaid 6
Random Battle
Fleesia
Rafflesia Girl
13
Priest 5, Informant 7
Alraune 6
Random Battle
Lihitinu
Centaur
13
Warrior 7
Beast 6
Random Battle
Kitsu
Kitsune
13
Magician 10, Thief 10, Taoist 1, Ninja 1
Kitsune 6
Random Battle
Kamuro
Kamuro
13
Magician 10, Thief 10, Taoist 1, Ninja 1
Kitsune 5
Random Battle
Rachnee
Spider Girl
14
Magician 10, Time Mage 2
Insect 10, Arachne 2
Random Battle
Minelli
Mimic
18
Magician 10, Black Mage 2
Ghost 10, Mimic 3
Random Battle
Nanabi
Nanabi
30

Magician 10, Thief 10, Taoist 10, Ninja 10

Beast 10, Kitsune 10, Speed Beast 2, Mid-Rank Kitsune 10, Feral Kitsune 10

Defeat her in the Cave of Treasures (after the Neris scene)
Yume
Sea Cucumber Girl
14
Fortune Teller 8, Gadabout 7
Sea Dweller 7
Random Battle
Shelly
Shellfish Girl
14
Cook 8, Maid 7
Sea Dweller 7
Random Battle
Soapy
Crab Girl
14
Gadabout 7, Maid 8
Sea Dweller 7
Random Battle
Beth
Slime Bess
15
Thief 9
Slime 7
Random Battle
Melon
Watermelon Girl
15
Magician 9, Fortune Teller 6
Alraune 7
Random Battle
Kazura
Pitcher Plant Girl
15
Hunter 9
Alraune 10, Carnivorous Flower 3
Random Battle
Anastasia
Lamia
15
Warrior 9, Magician 6
Lamia 7
Random Battle
Wakame
Seaweed Girl
14
Gadabout 10, Dancer 2
Alraune 7
Random Battle
Kurage
Jellyfish Girl
14
Warrior 8, Thief 6
Sea Dweller 7
Random Battle
Isabelle
Sea Anemone Girl
14
Martial Artist 6, Magician 8
Sea Dweller 7
Random Battle
Anko
Anglerfish Girl
14
Martial Artist 8
Mermaid 7
Random Battle
Meia
Meia
15
Magician 8, Priest 8, Gadabout 10, Mistrel 2
Mermaid 7
Defeat her in the Undersea Temple, then talk to her in her house
Annie
Page 17
15
Magician 10, Scholar 10, Magical Librarian 2
Ghost 10, Grimoire 1
Random Battle
Yoko
Page 257
15
Martial Artist 10, Priest 5, Scholar 10, Magical Librarian 3
Ghost 10, Grimoire 1
Random Battle
Cornelia
Page 65537
19
Scholar 10, Informant 10, Magical Librarian 6
Yoma 10, Scylla 10, Ghost 10, Grimoire 4
Talk to her after battle, then bring her "Mrs Shirley's Lover"
Sofia
Sister Lamia
15
Warrior 7, Priest 9
Lamia 8
Random Battle
Christie
Succubus Nun
15
Priest 9, Gadabout 10,

Prostitute 3

Imp 8
Random Battle
Kyona
Anteater Girl
15
Martial Artist 9, Thief 7
Beast 8
Random Battle
Aisha
Grizzly Bear Girl
15
Warrior 9, Martial Artist 7
Beast 10, Lunatic Beast 4
Random Battle
Robin
Experimental Organism XX-7
16
Hunter 10, Gunner 2
Doll 8, Chimera 5
Random Battle
Lippy
Little Bug
16
Warrior 5, Guard 9
Insect 8, Chimera 5
Random Battle
Jillian
Canceroid
17
Hunter 10, Engineer 10, Gunner 6
Doll 10, Chimera 10, Chimeraroid 2
Random Battle
Hild
Brynhildr
17
Hunter 10, Engineer 10, Gunner 3, Machina Master 3
Doll 10, Chimera 10, Lowly Apoptosis 6, Chimeraroid 6
Defeat her in the Ancient Temple Ruins
Carrie
Ghost Girl
17

Magician 10, Black Mage 4

Ghost 8
Random Battle
Miyabi
Cursed Doll
17

Gadabout 10, Maid 10, Dancer 4

Doll 8
Random Battle
Ellie
Zombie Swordsman
17

Warrior 10, Swordmaster 4

Zombie 8
Random Battle
Zombie Girls
Zombie Girls
17

Warrior 6, Martial Artist 10, Overpowering Fist 3

Zombie 8
Random Battle
Chrome
Chrome
20

Scholar 6, Engineer 10, Spiritualist 10, Nurse 10, Machina Master 4, Necromancer 5

Imp 4
Chrome's Recruitment Quest
Frederica
Frederica
20
Martial Artist 10, Overpowering Fist 7
Zombie 9
Chrome's Recruitment Quest
Claudia
Elf
18
Hunter 10, Gadabout 10, Bowmaster 5, Prostitute 3
Elf 10, High Elf 2
Random Battle
Love and Lamb
Brownies
18
Warrior 10, Engineer 10, Power Fighter 5
Fairy 10, Earth Spirit 2
Random Battle
Milly and Liru
Twin Fairies
18
Priest 10, Fortune Teller 9
Fairy 9
Random Battle
Fairies
Fairies
18
Magician 10, Priest 10
Fairy 9
Random Battle
Rachura
Tarantula Girl
18
Warrior 10, Maid 8, Power Fighter 6
Insect 10, Arachne 2
Random Battle
Mina
Minotaur Girl
19
Warrior 10, Berserker 6
Beast 10, Minotauros 2
Random Battle
Banachi
Bandersnatch Girl
18
Martial Artist 10, Magician 10, Overpowering Fist 6
Doll 10, Golem 2
Random Battle
Eva
Eva
19
Thief 10, Merchant 4, Fortune Teller 10, Gadabout 10, Informant 3, Cook 2, Nurse 5, Maid 4, Unemployed 10, Gambler 6, Prostitute 6
Imp 10, Succubus 2
Justice Kaiser's Side Quest
Sunny
Sables
18
Thief 10, Merchant 10, Black Marketeer 4
Scylla 9, Insect 8
Random Battle
Vanessa
Centipede Girl
19
Warrior 10, Power Fighter 6
Insect 10, Subterranean Insect 1
Random Battle
Scarlet
Scorpion Girl
20
Warrior 10, Guard 5, Swordmaster 7
Insect 9
Random Battle
Casta
Cactus Girl
20
Hunter 10, Monster Tamer 7
Alraune 9
Random Battle
Miu
Ostrich Girl
20
Martial Artist 10, Gadabout 10, Overpowering Fist 7, Dancer 4
Harpy 9
Random Battle
Jeannie
Lamp Genie
20
Magician 10, Fortune Teller 10, Black Mage 5, Summoner 3
Yoma 9
Random Battle
Patra
Mummy Girl
20
Magician 10, Noble 10, Black Mage 7
Zombie 10, Mummy 2
Random Battle
Lila
Cobra Girl
20
Martial Artist 10, Merchant 10, Overpowering Fist 7
Lamia 9
Random Battle
Nefertiti Lamias
Nefertiti Lamias
20
Warrior 10, Informant 10, Power Fighter 7
Lamia 9
Random Battle
Sphinx
Sphinx
55
???
???
Defeat her while looking for the Yellow Orb and talk to her after.
Gaa
Crocodile Girl
20
Warrior 10, Martial Artist 6, Power Fighter 7
Land Dweller 9
Random Battle
Saki
Saki
21
Gadabout 10, Dancer 10, Minster 10, Superstar 2
Imp 10, Succubus 4
Defeat her in Grandeur Theatre
Regina
Devil Fighter
21
Warrior 10, Swordmaster 7
Yoma 10, High Yoma 4
Random Battle
Ashidaka
Large Spider
21
Martial Artist 8, Magician 10, Time Mage 7
Demi-Human 10, Insect 10, Arachne 4
Random Battle
Anna
Suck Vore
21
Magician 10, Cook 7, Black Mage 7
Human 10, Worm Summoner 4
Random Battle
Maiden
Iron Maiden
21
Magician 10, Black Mage 7
Doll 10, Automata 4
Random Battle
Julia
Worm Villager
21
Magician 10, Summoner 7
Human 10, Worm Summoner 4
Random Battle
Lemon
Ustrel
21
Scholar 10, Cook 10, Three Star Chef 7
Scylla 10, High Scylla 4
Random Battle
Mitsuko
Honey Pot
26
Magician 10, Summoner 7

Slime 10, Scylla 10, Ghost 10, 

Mimic 10
Random Battle
Lily
Lily
22
Magician 10, Scholar 10, Summoner 5, Magical Scholar 8
Human 10, Worm Summoner 5
Witch Hunt Village Sidequest
Shizuku
Oni
21
Warrior 10, Power Fighter 7
Demi-Human 10, Oni 6
Random Battle
Naho
Onahole Girl
21
Gadabout 10, Maid 10, Prostitute 7
Slime 10, Doll 10, Mega Slime 7, Automata 5
Random Battle
Nabisu
Naccubus
21
Nurse 10, Doctor 7
Imp 10, Succubus 4
Random Battle
Lucia
Lucia
22
Magician 10, Scholar 10, Summoner 5, Alchemist 8
Human 10, Worm Summoner 5
Witch Hunt Village Sidequest
Manako
Dodomeki
22
Hunter 10, Merchant 10, Item User 6
Yoma 10, Demi-Human 10, Holy Yoma 6, Youkai 5
Random Battle
Liru
Lizard Thief A
22
Hunter 10, Thief 10, Master Thief 8
Dragon 10, Dragonoid 5
Random Battle
Len
Lizard Thief B
22
Warrior 10, Magician 10, Thief 10, Magiknight 5

Dragon 10, 

Dragonoid 5
Random Battle
Miranda
Lizard Boss
24
Warrior 10, Magician 10, Thief 10, Swordmaster 8, Magiknight 4, Master Thief 8

Dragon 10, 

Dragonoid 10
Talk to her after defeating her and recruiting the other thieves
Mirage
Mirage Girl
23
Priest 10, Gadabout 10, Dancer 8, Prostitute 5
Ghost 10, Evil Mist 6
Random Battle
Helen
Antlion Girl
23
Hunter 10, Bowmaster 8
Insect 10, Subterranean Insect 6
Random Battle
Dahlia
Sandworm
23
Warrior 10, Power Fighter 8

Insect 10, 

Subterranean Insect 6
Random Battle
Deiji
Desert Scylla
23
Magician 10, Hunter 10, Informant 10, Monster Tamer 8
Scylla 10, High Scylla 6
Random Battle
Vitae
Vitae
23
Thief 10, Engineer 10, Master Thief 8, Machina Master 5
Slime 10, Doll 10, Mega Slime 7, Lowly Apoptosis 4
Random Battle
Vetala
Vetala
23
Martial Artist 10, Gadabout 10, Overpowering Fist 8, Prostitute 5
Yoma 10, Doll 10, Lowly Apoptosis 5
Random Battle
Valto
Valto
23
Hunter 10, Guard 10, Engineer 10, Gunner 8, Machina Master 5
Doll 10, Chimera 10, Automata 6, Lowly Apoptosis 3, Chimeraroid 6
Random Battle
Shinifa
Shinifa
23
Magician 10, Thief 10, Gadabout 10, Time Mage 8, Minstrel 4
Land Dweller 10, Zombie 10, Doll10, Leech 4, High Undead 6, Lowly Apoptosis 3
Random Battle
Shadow
Shadow Girl
24
Magician 10, Guard 10, Black Mage 9
Ghost 10, Evil Mist 8
Random Battle
Lisa
Paintgeist
24
Magician 10, Informant 10, Time Mage 10, Smooth Talker 3
Yoma 10, Ghost 10, Evil Mist 6
Random Battle
Crowley
Chimera Homunculus
24
Magician 10, Scholar 10, Black Mage 5, Alchemist 9
Human 10, Chimera 10, Worm Summoner 6, Tri-Chimera 6
Random Battle
Torture
Neo Iron Maiden
24
Magician 10, Nurse 10, Black Mage 9 
Doll 10, Chimera 10, Automata 10
Random Battle
Francesca
Junk Doll Girl
24
Magician 10, Maid 10, Black Mage 5, Time Mage 8, Master Maid 9
Zombie 10, Doll 10, Automata 10
Random Battle
Radio
24
Hunter 10, Engineer 10, Maid 10, Gunner 9, Machina Master 5, Master Maid 5
Doll 10, Chimera 10, Automata 6, Chimeraroid 2
La Croix asks you to take her with you at the end of Third Tartarus
Sonya
2
Warrior 2
Human 2
Joins you after talking to the Iliasville village elder
Sara
Sara
21
Warrior 10, Maid 10, Noble 10, Swordmaster 7
Human 10
Sabasa Problem
King of San Ilia
17
Priest 10, Engineer 10, Noble 10, Pope 2
Human 7
Joins the party when you encounter
Queen of Grand Noah
23
Warrior 10, Hunter 10, Noble 10, Monster Tamer 10, King 2
Human 10
Joins you for 45 Small Medals
Amira
6
Gadabout 6, Informant 10
Lamia 3
Talk to her after talking to the Rabbit Girl in Pornof
Pyhar
8
Fortune Teller 8, Gadabout 8
Harpy 4
Talk to her with Amira in party
Domaimer
12
Merchant 8
Mermaid 6

Talk to her with Amira in party

Marie
15
Gadabout 10, Maid 10, Prostitute 6
Human 7 
BF, you also need to defeat 15 other Battle Fuckers
Eri
4
Merchant 3
Human 3
BF
Stella
5
Unemployed 1
Human 4
BF
Don Dahlia
20
Warrior 10, Hunter 10, Merchant 10, Gunner 5, Black Marketeer 7
Human 9

BF after completing 

Nameless Slum Quest

 and purchasing Ticket to Heaven from her for 1500G

Bunny-Chan
5
Gadabout 4
Human 4
BF
Louise
7
Thief 5
Human 4
BF
Mei-Lin
8
Martial Artist 6
Human 5
BF
Kate
8
Cook 8, Maid 10, Master Maid 3
Human 5
BF
Elise
12
Hunter 7
Elf 6
BF
Fizz
13
Scholar 7
Human 6
BF
Nightingale
13
Nurse 7
Human 6
BF
Teresa
5
Cook 4
Human 4

BF

Maria
15
Priest 9
Human 7
BF
Juska
23
Guard 10, Hero of Justice 10
Human 10
BF after completing Justice Kaiser's Side Quest
Naia
20
Fortune Teller 9, Informant 8
Human 9
BF
Salaan
25
Thief 10, Master Thief 10, Ninja 10
Human 10
BF after completing Sabasa Problem
Melody
21
Gadabout 10, Dancer 7
Human 10
BF
Witchy
21
Magician 10, Black Mage 7
Human 10
BF
Orlan
22
Warrior 10, Power Fighter 8
Human 10
BF after bringing her the Star Sand and Crystal
Pilate
1
Guard 3
Human 2
Talk to him in the job explanation room in Ilias Temple after getting the Proof of Bravery
John
16
Warrior 10, Priest 10, Guard 10, Holy Knight 5
Human 8
Talk to him in the San Ilia throne room after recruiting the pope
Samson
21
Warrior 10, Guard 10, Swordmaster 5, Power Fighter 7, Royal Guard 5
Human 10
Talk to him in Sabasa throne room after defeating Sara
Scat Captain
5
Engineer 4 
Human 4
Talk to him in his house in Pornof with Kamuro in party, choose the fourth dialogue option, exit and reenter house, talk to him again, exit and reenter house again, talk to him once again and he'll ask to join the party
Panty Sensei
10
Guard 10, Gadabout 10, Hero of Justice 2
Human 4
Will ask to join after you bring him 5 pairs of panties