Oxton Coast is a location specific to the Collaboration Scenario for Monster Girl Quest Paradox
It is the place where the first half of chapter 3 is happening.
Overview
A lone swordsman named Lest is woken up by an exotic dancer named Tarsa. The duo is dazed by their unfamiliar surroundings, and decide to move on. They're attacked by a mermaid, who is pushed back without trouble. As they proceed alongside the coastline and fight more sea monsters, they discuss the fact that neither of them are familiar with these strange surroundings. As they talk about their origins, they realize that they're both from different worlds as they're unfamiliar with the names and locations given by each other and the ones from this world itself. As they reach the cave, they discover a sign indicating the city of Grand Noah and decide to go there. They then enter the Labyrinth Caverns.
Map of the Area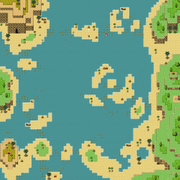 Items
Chests
Battle Wrist
Dragon Shield
Dancer Suit
Hypno Crown
Fan Scroll
Others