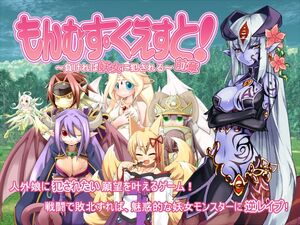 Welcome to the Wiki
Monster Girl Quest is an eroge series hailing from Japan which is currently being translated by Rogue Translator into an English format. The game has acquired a fair fanbase globally with its tales of Luka's journey to become a hero while defeating (or being defeated by) various female monsters in his world.
The official Monmusu Quest site
If you have any major edits or designs in mind for the wiki, be sure to use the Talk pages to discuss with others to see if they can be implemented. This goes for any content that will overhaul pages or will take out existing sections. This is purely to keep the wiki community-centric so everyone has an equal say on the wiki and how it will develop over time.
Major edits on many articles need to be done for cleanup purposes as well as creating accurate and precise information. There are currently only a few of us active and making proper edits to the wiki. Thus, your help is greatly appreciated if you can sign up and make as many contributions as possible. For a guide on how to get started, click here.
The main MGQ IRC channel can be found here.
We also have a DeviantArt page where you can post any pictures of the game(-characters) on DeviantArt.
The group can be found here mgq-fans.deviantart.
~The MGQW crew
MonsterGirlQuest Wiki Contents (view all pages)
| | | | |
| --- | --- | --- | --- |
| Characters | Battle | Points of Interest | Game Makers |
Recent Activity