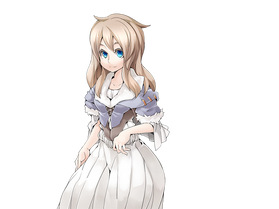 Luka's mother is dead again by the time Paradox starts, just like in the original trilogy.
Biography
While she does not appear in part 1, we do learn some small information about her in Luka's diary. She's still Luka's mother, and she still died of an illness. Presumably. On the Ilias route, she is resurrected alongside Micaela. However, due to a lack of power, they return as Micaela-chan and Lucifina-chan. Her grave can be found at Iliasville where Luka was born.
She's seen in a flashback should Luka decide to accompany Lucifina-chan in Snow Heaven for her side quest. Lucifina is seen scolding Eden after the latter blew up a human house while asking for Lucifina to come back to Heaven, saying that Eden doesn't understand what she just did.
Trivia
According to Luka's diary, she died of an illness. While this world's Ilias is still alive, she's trapped in the Ilias Temple Ruins since the Great Disaster that happened 30 years before the beginning of Luka's adventure, and has been unable to influence the outside world (no appearance for baptism), which means Ilias isn't the likely culprit for the disease that killed her, unless Luka is older than what he appears to be.
A profile originally stated that her fall was caused because she absorbed so much dark energy. It is not confirmed if this indeed applies to this version, as it used her Labyrinth of Chaos CG.
During the pocket castle quest for teaching Rami how to fly, after Rami jumps off Mount saint Amos and fails to fly Luka tells Rami that maybe she should try jumping off from even a higher mountain and then Ilias response that even she didn't thought of that and maybe Luka has inherited cruelty from his mother Lucifina. This suggests that, at least in eyes of Ilias, Lucifina was originally a very cruel person before settling on the surface.
Gallery