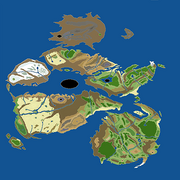 In the Paradox Trilogy universe, thirty years before the game's events, a catastrophe known as the Great Disaster drastically altered the entire world within a day. 
Remina
 vanished off the face of the earth and was replaced by a hole known as 
Tartarus
. The 
Sentora
 continent split apart into several pieces, destroying the Navel of the World and Heaven along with it. It created a new continent called Snow Heaven which, as implied by its name, is entirely covered in snow. Additionally, seven huge holes called Tartarus appeared all over the world; each Tartarus containing massive dungeons within, filled with entirely new and bizarre monsters called 
Apoptosis
, and lots of highly advanced relics and technologies called Makina were discovered.
The Result
Goddess Ilias vanished and hasn't been seen since, causing the downfall of her religion and an increase in human and monster association. Finally, an enormous amount of mana filled the whole world`s atmosphere, making humans capable of using magic, thus birthing the Magical Revolution or the Renaissance era as it was called, among civilized countries.
Grangold became an extraordinarily powerful kingdom, unmatched by any other in Sentora, thanks to their army of artificial monsters and super-human soldiers. Grangold became a significant threat to Sabasa, Grand Noah, and San Ilia, by declaring war on them without reason. Rumors started to spread from soldiers returning from the war about the monstrous 'Magic King' Grangold 11th, claiming he possesses inhuman power.
After the disappearance of the Sabasa King - due to him falling into the Tartarus because of a strong gust of wind - his daughter, Sara, inherited the throne. However, shortly after ruling, Sara had a strange change of character. She has become a wild person, who prioritizes sex over actually governing the country, and has no interest in politics, causing vast poverty among the kingdom. The people have no idea what's gotten into her, but soon enough, there will be civil war.
In San Ilia, a great deal of religious conflict occurred because of the King's use of Makina technology. The political force was divided into two factions. The King and his followers, who accepted the use of Makina; and their opposition, the anti-Makina faction, who kept their belief in Ilias and her prohibition against using such things. The anti-makina faction currently resides in Luddite Village, while the King's supporters continue to live in San Ilia.
Marcellus set out along with Lazarus, Merlin, and Karen to help those in need, in the wake of the Great Disaster.
Community content is available under
CC-BY-SA
unless otherwise noted.