Ghatanothoa is one of the Four Spirits in the Monster World of Monster Girl Quest Paradox. She's a counterpart to Undine.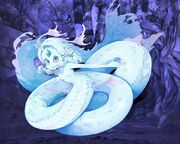 Biography
Not much is known about her. She's slated to appear in part 3.
Both her actions and her personalities are rough like a torrent of water. Energetic, she's an adept martial artist.