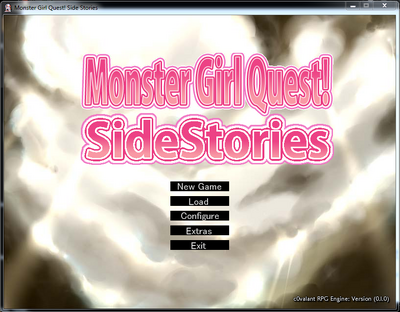 c0var1ant RPG Engine (please note c0var1ant is pronounced "covariant" which comes from the math concept of Tensors) is the name of the visual novel game engine being made for the purpose of telling non-canon Monster Girl Quest Side Stories.
General Information
The engine is based on the visual novel engine called Ren'Py, which combines its own scripting syntax with [1] code. Visual novels made with Ren'Py can be compiled for almost all PC platforms (Windows, Mac, Linux). It features PNG image support which avoids the bloat of having to use BMP files. The engine suports WAV, OGG & MP3 audio files. It also supports OGV, MPEG & AVI video files.
Features
Money System
Shop System
Item System
Equipment System
Exploration System
Leveling System
Mob System
Health/Ero System
How To Make A Custom Side-Story
Download
Base Engine:
Please use Bit Torrent Sync (found here) to always get the lastest versions of the engine. After instalation add a folder to your computer (the name doesn't matter) and add it to Bit Torrent Sync with the following key
READ-ONLY KEY:
BE45XFPSO4PH5QIKBRA3LM43GKOGJQGBP
(copy and paste this secrete to the folder in Bit Torrent Sync you chose).
Base Engine Script Patches:
Side Stories:
Installation Instructions For Downloads
Steps for un-archiving:
Download 7zip from their website. You need this to be able to un-archive the multi-part ZIP files you'll be downloading.
Once you've installed 7zip gather all the files you downloaded into the same directory.
Then find the file with the extension "*.zip.001"

4. Right-click on the file and then select "Extract Here"
5. You should now have the complete file extracted.
Community content is available under
CC-BY-SA
unless otherwise noted.